Nolan Daigle, a board member of Association de la Famille Daigle, and his wife Deeda made one of their many return trips to Canada. Their mission was to meet as many Daigles as possible in New Brunswick, and to try to find the property of our Acadian ancestor, Olivier Daigre, along the Annapolis River in Nova Scotia. After talking with several people and showing them the map of 1707, they found a young girl at Fort Royal, Mia Robertson, who said "that is where I live with my parents Mark and Maria Robertson". Nolan asked if it would be alright if they could visit her parents and she said they would be glad to meet them.
They were able to speak to the two families, Mark Robertson and and Marie-Josée Rosconi and their elderly neighbors, Mr. and Mrs. Vincent Francis who now live on part of the property. They were very well received by both couples. They were able to walk on the property, visit with both couples, and get an insight on the living conditions in that area. Mr. Francis advised them that he had found the foundation to a house on the property which was from the Acadians.
Upon leaving, Mark brought out 3 pieces of rusted metal he had found on the property. One was a tool used by blacksmiths to remove hot metal from the fire. Another was a very rusted door hinge. He told Nolan he could have any of the three, but suggested the door hinge since it was the most probable to come from the time of our ancestors. Below are two pictures of the hinge (one with Nolan holding it) and an excerpt from a publication authenticating this piece as being from the mid 1600's.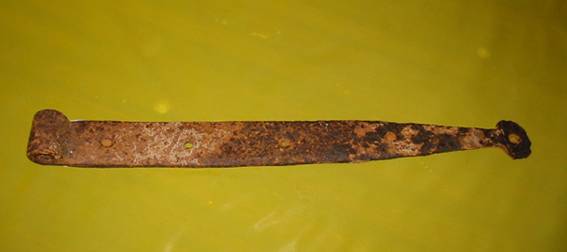 Door Hinge From Olivier Daigre Property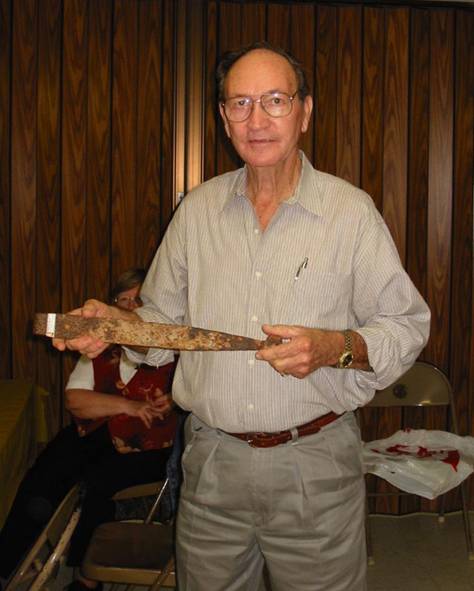 Nolan Daigle With Hinge